In today's competitive market, it's crucial for businesses to stand out and create a lasting impression on customers. One effective way to achieve this is through custom printed tissue paper. In this article, we'll explore the various benefits of using custom printed tissue paper for your products and how it can contribute to the success of your business.
1. Enhanced Brand Image
Custom printed tissue paper offers a unique opportunity to showcase your brand identity. By incorporating your logo, colors, and other design elements into the packaging, you can create a cohesive brand experience that distinguishes your products from those of competitors. This, in turn, can help foster customer loyalty and encourage repeat purchases.
2. Improved Product Protection:
Custom printed packaging paper is designed specifically for your products, ensuring that they are well-protected during transport and storage. By choosing the right materials and design, you can minimize the risk of damage, ultimately saving on costs associated with product returns and replacements.
3. Eco-Friendly Packaging Solutions:
As consumers become increasingly environmentally conscious, it's essential to consider sustainable packaging options. Many custom printed packaging paper materials are recyclable, biodegradable, or made from renewable resources. By adopting eco-friendly packaging, you not only help protect the environment but also appeal to customers who value sustainable practices.
4. Greater Flexibility in Design:
Custom printed packaging paper allows for greater flexibility in design, enabling you to create packaging that truly reflects your brand and products. This can include:
Personalized patterns: Design unique patterns based on your brand characteristics and product positioning to make your packaging more attractive and recognizable.

Diverse color combinations: Choose different color combinations according to your brand image to enhance the visual effect of the packaging.

Creative font design: By using distinctive font designs, you can better convey your brand message and increase consumer curiosity and interest in your products.

Unique printing techniques:
Custom printed packaging paper can adopt various printing techniques, such as hot stamping and embossing, to add a unique texture and visual effect to your packaging.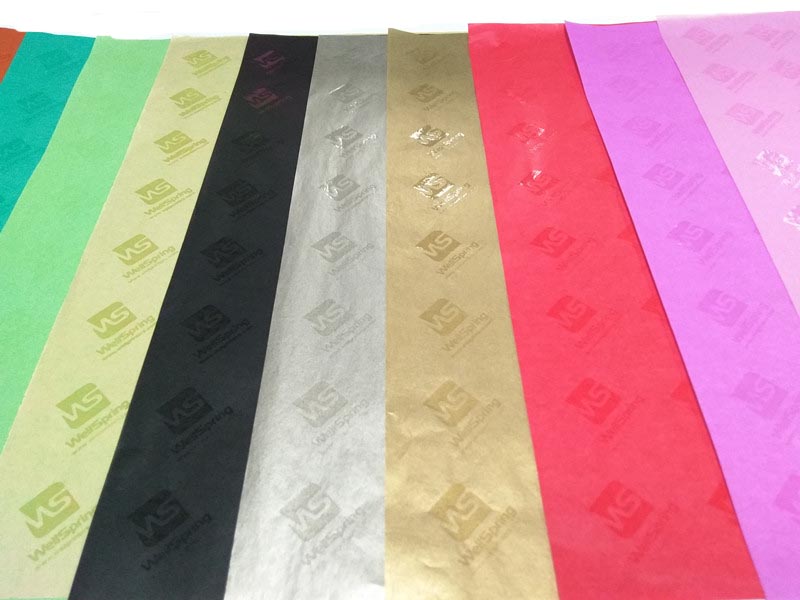 By fully utilizing the design flexibility of custom printed packaging paper, you can create distinctive and unique packaging that will win more attention and affection for your brand and products.
5. Creating a Unique Unboxing Experience:
Custom printed tissue paper provides customers with a unique and memorable unboxing experience. Exquisite packaging design and printing effects will leave a deep impression on your products in consumers' minds, increasing word-of-mouth marketing.
Custom printed tissue paper has relatively low costs, but its advantages are immense. From enhancing brand image, and strengthening customer loyalty to showcasing environmental awareness, custom printed packaging paper offers numerous values for businesses. Investing in custom printed packaging paper is a wise choice to improve corporate image and market competitiveness.